The picturesque Mondello Beach, a mere 12 km from Palermo, is a sight with its azure waters and sun-kissed sands. Tourists bask in the warmth of the Sicilian sun, often unaware of the silent hustle surrounding them. Here, Bangladeshi migrants, once smuggled into Italy, offer everything from sarongs and jewellery to sunglasses.
On any given summer day in Mondello and other Sicilian beaches like Cefalù, Balestrate, and Castellammare, Bangladeshis toil long hours barefoot as they move from one customer to the next, pitching their wares and services.
Under the Sicilian sun, a hidden story unfolds while locals and tourists unwind under colourful parasols, savouring ice cream and cold drinks.
Bangladeshi migrant beach vendors, often without proper documentation, work on the Italian shores, earning meagre wages that barely sustain their livelihoods.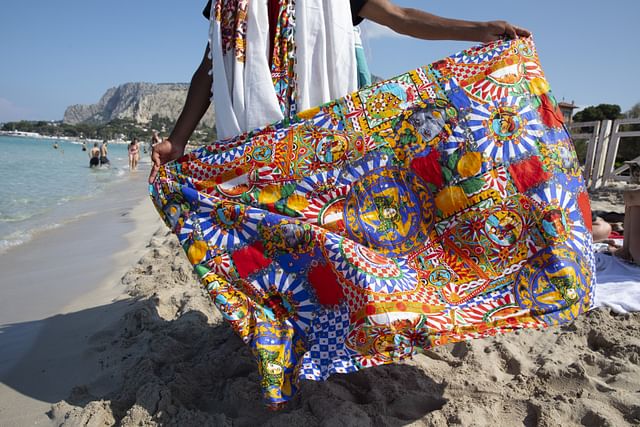 From June to September, during the busy summer months, these migrants work tirelessly, braving the intense heat and long hours to earn a modest income.
Beach vendors in Italy do not have registered businesses and don't pay taxes, making their earnings illegal. In 2018, Italy introduced its 'safe beaches' policy, which targets migrant beach vendors and criminalises their business. The law says that anyone caught buying goods from vendors on Italian beaches could face fines of up to €7,000, which is equivalent to Bangladeshi Taka 838,109.
They are also often harassed by police, businesses and tourists who perceive them as too bothersome. Some Italians even dismissingly refer to them as "vu cumprà" a mocking phrase that means "Do you want to buy?" This reflects the often-dismissive sentiment towards their presence.
These vendors mostly come from the Sylhet and Sunamganj districts of Bangladesh and have made a perilous journey to reach these shores, spanning thousands of miles. Their trips are brokered by dalals or 'travel agents', but transnational traffickers exploit their desperate dreams of escaping poverty.
Bangladeshi beach vendors find themselves unfairly criticised for their persistence, but their circumstances leave them no choice but to work on the beaches. Many also owe considerable debts to dalals who facilitated their journeys to Europe. These debts often necessitate them sending a large portion of their meagre earnings back home.
But their efforts are a testament to the struggles and challenges faced by the hundreds of Bangladeshi migrants who work on Sicily's beaches every summer.
Bangladeshi vendors heavily rely on the beach economy for their income. But every year, as the season fades, they're left seeking other jobs, often landing in exploitative sectors out of sheer necessity.
While Palermo, the capital of Sicily, is home to around 15,000 to 20,000 Bangladeshis out of an estimated 146,000 in Italy, their daily struggles remain hidden. For example, a few in Italy recognise Bangladeshis consistently ranking among the top nationalities embarking on the perilous boat journeys from Libya to Italy.
Our investigation, funded by Journalismfund.eu, delves into the shadows of Sicily's beach economy, illuminating the challenges and exploitative dynamics that disproportionately affect Bangladeshi beach vendors. To illustrate their hardships, we share the personal experiences of two Bangladeshi vendors. Their testimonies below offer a direct look into their challenges.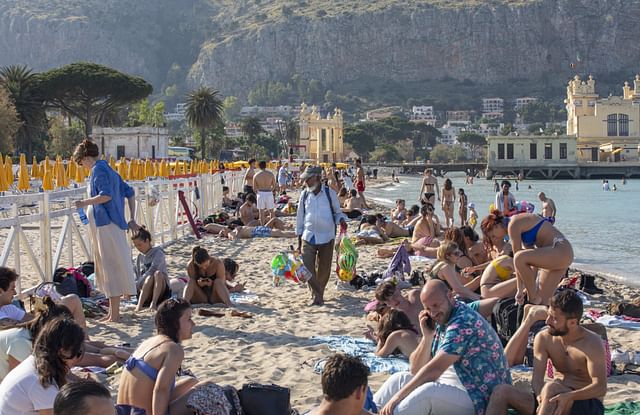 Case 1:
Salman, (not his real name) is a 38-year-old originally from Sylhet, Bangladesh, who has taken the gritty path of a beach vendor in Palermo, Italy. He recounts his tumultuous journey from Bangladesh to Italy in 2015. "I played 'the game'," Salman explains, using a term that Bangladeshi migrants often use for trafficking journeys managed by 'dalals'. His perilous route took him from Dhaka to Dubai, and through the Balkan route, he was smuggled from Serbia to Italy, finally landing in December 2015.
The early stages of his time in Italy were far from easy. With an unsuccessful asylum application behind him and facing daily challenges to make ends meet, he gravitated towards work as a beach vendor. He recalled, "Sometimes I earned 15 euros a day, and then I spent 10 to eat, and what I had left was not enough to buy back the goods; besides, I had to pay the rent."
Salman walks up to 8 hours on beaches like Mondello, selling earrings, necklaces, scarves and bandanas. Despite the demand of his daily routine, walking many miles and bearing the weight of his goods, Salman often earns as little as €15 a day, a stark reflection of the challenges of his profession. "If you don't insist, you don't sell anything because, at first everyone says no," he says, highlighting the constant rejections he faces from potential customers.
Beyond the strain of his daily routine, the harsh elements of his working environment, particularly the relentless heat and scalding sand, have exacted a heavy toll. Salman says, "It was very tiring; I suffered a lot." He also shared the taxing reality of the beach vendor's life: "When I can't sell the products, it gets annoying after walking in the heat, under the sun, and the hot, unbearable sand."
Palermo offered Salman a mixed bag of experiences. He juggled various jobs, from street vending to restaurant work, yet every summer, he returned to beach vending, where the promise of higher earnings beckoned. As he became more familiar with the beach vendor landscape, he began frequenting popular beaches near Palermo, like San Vito Lo Capo, Balestrate, Castellammare, and Mondello. Salman notes that police checks have become more regular, especially on Mondello Beach, making it harder for vendors like him.
Adding to his woes, Salman grapples with diabetes, a condition that further strains his meagre earnings. Forced into a carb-heavy diet, mainly rice, Salman shares a cramped apartment in central Palermo with fellow Bangladeshi men. Reflecting on his challenging journey, Salman poignantly remarks, "We come abroad to work, but if we had known we would end up working on the beaches, we wouldn't have come."
Case 2:
Ashik (not his real name) paints a vivid picture of his life on the beaches of Sicily. Since arriving in Palermo in 2012, he has sold various items: earrings, anklets, bands, bandanas, rings, and more. His journey has taken him across the sandy landscapes of San Vito Lo Capo, Balestrate, Castellammare, Mondello, Cefalù, and countless other beaches in Sicily.
He notes, "This job is not for everyone". Adding that, this trade comes with many hardships. Ashik describes the physical toll, emphasising that it's not for the faint-hearted. "You get exhausted, the body loses all its vitamins, so much so that you no longer recognise yourself". Carrying around merchandise weighing up to 40 kg under the scorching heat and knee-deep sand is taxing. The weariness forces him to frequently pause and try to engage potential customers, regardless of their interest, after just a minute or two of walking.
Despite his dedication to this demanding job, Ashik's financial progress has been limited. "I am about 47 years old, and so far, with all the money I have earned, I have not been able to do anything for myself; what I know I have done is that I have helped my family and send a brother abroad, and now I am trying to bring my kids and wife here." He holds a 2-year residence permit in Italy and supplements his income by working in restaurants and kitchens during the non-summer months.
Ashik's path to Italy was complex, involving several countries and assistance from "dalals" (agents). He left Bangladesh in 2008, embarking on a long journey via Iran, Turkey and Greece. Ashik spent four years working in various places in Greece before finally reaching Italy. This voyage, facilitated by dalals, cost him significant money and effort.
While Ashik's family remains in Sunamganj, he supports them financially. He sends varying amounts of money each month depending on their needs, "Sometimes I send 20,000 taka a month, sometimes 50,000 taka and other times 30,000 taka, because besides my children, I also have a mother, brothers and sisters."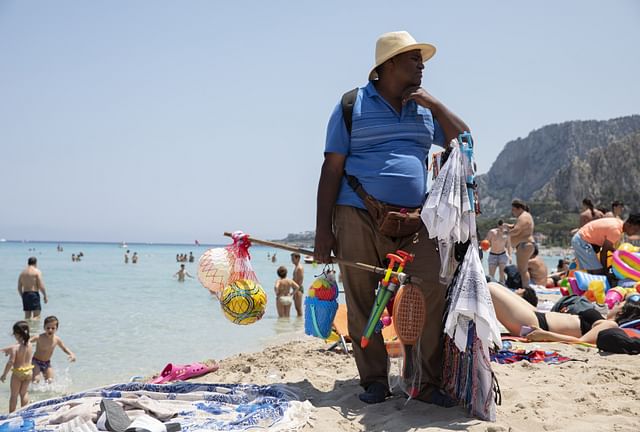 Ashik's reflections on his profession reveal the challenges and transformations it has undergone. He remarks, "This job is slowly dying". He says it's becoming increasingly difficult for migrants like him to work on Sicilian beaches and make a living. This job is on the verge of extinction, as those who continue to work there do so because they are forced to do so. "The changing dynamics of the market have resulted in a significant drop in sales", and Ashik laments that only about 10% of what he used to sell is being bought nowadays.
*Names have been changed to protect identities of migrant workers.
*This investigation was conducted between Italy and Bangladesh with support from Journalismfund Europe's Modern Slavery Unveiled Grant.
Md Owasim Uddin Bhuyan is a freelance journalist
Courtesy: Prothom Alo